We thought it would be nice to offer a few, well OK,  a bunch of ideas for custom air fresheners. This product lends itself to so many different promotional and gift ideas that we almost have too many to list. For instance, our personalized wedding air fresheners make a truly unique wedding favor, party favor or personalized gift for the wedding party.
Please visit our design gallery here.
We are constantly growing and adding new designs so if you don't see the shape or color that you have in mind, please call us directly at 631-235-2664. We are here to help!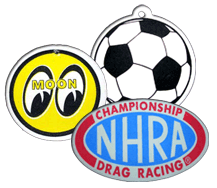 Promotional air fresheners for auto repair or body shop and new or used car dealers
Fund raising air fresheners for schools, sports , boy scouts, girl scouts,  fire departments. Up to 500% profit !
Wedding Air Fresheners.  What a great wedding favor! Give them to your valet service and they will place them in your guests cars.
Save The Date air fresheners: Now no one will forget that special date !
Birth Announcement Air Fresheners: It's A Boy! It's a Girl! It's Twins!
Christening, Bar Mitzvah air fresheners.
Happy Birthday or Birthday Party air fresheners
Retail Air Fresheners: Design your own line of air fresheners for your store, retail location or boutique. These are great point of sale items.
Running for office? How about political air fresheners? The best way for your name to be recognized is for people to see it over and over again. What a great way for potential voters to remember your name.
Perfect for T/V and radio stations FM/AM and Satellite
Air fresheners are a great way to bring awareness. Consider anti-drug and anti-alcohol air fresheners. What a great feeling knowing that someone's life can be saved by an air freshener!
Safety awareness. Some police departments are giving these away as reminders to lock your doors when entering or exiting your vehicle.
Air fresheners are perfect for trade show giveaways. Air fresheners do not get thrown in a junk drawer. They are placed on a rear view mirror where they will be noticed.
Air fresheners are perfect for auto detail shops.
Raise money to fight cancer with air fresheners.
Car wash air fresheners
Started your own rock band? Promote with custom air fresheners!
Attention advertising agencies … air fresheners work wonderfully for direct mailing. And they are a welcome and USABLE gift to your customers and clients.
Car club air fresheners
Insurance company air fresheners
Own a pizzeria? How about an air freshener shaped like a pizza pie with pull off coupons!
Air fresheners are perfect for sports bars and night clubs.
Promote your new website with your own air freshener
Attention contractors and landscapers.  Custom air fresheners are perfect for home shows.
The possibilities are endless, we have made custom promotional air fresheners for every type of business from beekeepers to gold mines. The only business we haven't made an air freshener for yet might be yours. What are you waiting for?
BTW, we ship anywhere in the world.